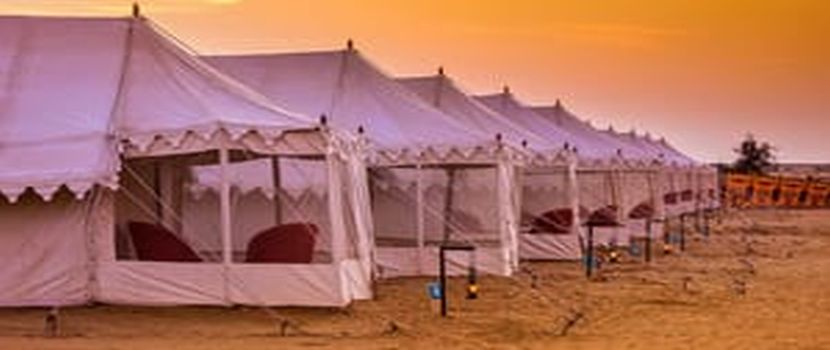 There is no denying the fact that Jaisalmer is truly a 'land of wonders'. The boisterous historical presence, culture, nature and legacy of Jaisalmer undoubtedly offer us a lot to discover. Widely called as 'The Golden City of India', Jaisalmer is an energetic city in the core of the Thar Desert. Moreover, travellers will find one or the other thing in every nook and corner of the city and it will definitely going to amaze you all. Following mentioned places will offer you Best Camping In Jaisalmer. Have a look!
1. Thar Desert
How can we start this article without mentioning the Thar Desert, which happens to be one of the major attractions around Jaisalmer. There is no one who wouldn't venture out into it. There are a number of camps located on and near the main road close to the popular Sam Sand Dunes, about 45 minutes west of Jaisalmer. Here, people flock to go on camel rides into the sunset and enjoy there stay like nowhere else.
2. The Serai
Located one hour east of Jaisalmer, those who have cash to splash, The Serai is the right option for you for it is an ultimate place of indulgence. Moreover, your concept of luxurious tented accommodations would get a new definition altogether. The Serai has 21 large canvas tents built on a base of Jaisalmer stone, and is situated on thirty acres of desert scrub in the Great Thar Desert. It is also to be noted here that, each tent is over a thousand square feet in size and has the exterior relaxing area, covered sitting room, a spacious bedroom, and en suite bathroom.
3. Damodra Desert Camp
Damodra Desert Camp is a camp that is located at Sam Road, Damodra Village (about 15 minutes from the Sam Sand Dunes). It had opened in the late 2011 with only 10 Swiss tents. Apart from other camps in Jaisalmer, Damodra Desert Camp is quiet peaceful and is well decorated with traditional artifacts, giving it a traditional village feel.
4. Prince Desert Camp
Situated at Lakhmana Road, Sam Sand Dunes, Prince Desert Camp is one of the larger Jaisalmer tented camps, having 30 tents in its space. Not just this, it is also one of the more deluxe camps near the Sam Sand Dunes, that also has attractive peripheries and bathrooms in the suite tents. As far as the food is concerned, it is way too delicious here. That's not all, because of the sand dunes right in the back yard, the place happens to be very authentic.
There is no denying that you are definitely going to enjoy Camp In Jaisalmer and there are a number of Camp Packages In Jaisalmer available for all the travel lovers. Jaisalmer definitely deserves a place in your go-to visit check list. Jaisalmer is a well-developed city and several kinds (luxury, moderate and cheap) of accommodations are available. You will definitely have hell of a time for sure! Happy camping guys!!!